Home / Latest Sports / Small College Sports
Prairie alum Evan Gaskill helping build Mount Mercy men's volleyball program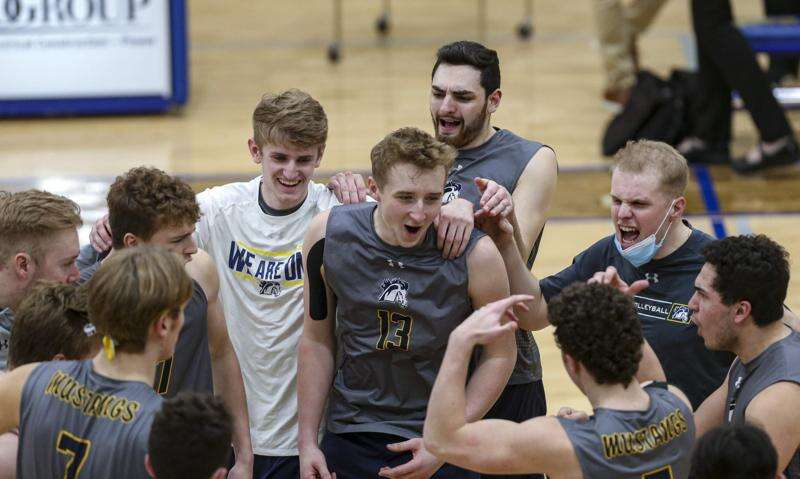 CEDAR RAPIDS — When Mary Kay Van Oort became the first head men's volleyball coach at Mount Mercy University five years ago, many people assumed she would simply take prep basketball players and convert them.
The only problem with that is tennis and soccer are better starting points for an athlete looking to switch to volleyball because of the similarities when it comes to spacing and passing.
After going 3-25 overall and 0-10 in conference play during the Mustangs' initial campaign in 2016-17, Van Oort found a stellar local prep athlete in Evan Gaskill who was not only an exceptional tennis player for Cedar Rapids Prairie, but had already converted to club-level volleyball during his sophomore year of high school.
'Volleyball is such a skill-specific sport, even if you're a good athlete,' Van Oort said. 'That's why experience comes in handy, because there is nothing that replaces that.'
Another thing you can't coach is height and by the time Gaskill was a senior at Prairie, he was 6-foot-2. His freshman year at Mount Mercy, he grew to 6-4 before finally completing his spurt to 6-6 during his sophomore season.
'Once I was tall, I was able to hit it over people,' Gaskill said. 'It just became easier.'
Gaskill not only grew into the sport, he grew up around volleyball with his older sister Kendra playing at Rockhurst University in Kansas City before focusing on school.
'I think this was the path I was supposed to take,' Gaskill said. 'Being a late bloomer allowed me to do that.'
One downside of such a rapid growth spurt is the degenerative hip disorder called Perthes Disease that has left Gaskill with his right leg shorter than his left and requires a full replacement in the near future.
Gaskill needs to have cortisone shots in his hip every 2-3 months to relieve pain.
'Being able to overcome that has shaped me into who I am,' Gaskill said.
The person the Mustang senior wants to become, in a dream scenario, would be an international volleyball player overseas for 5 to 10 years before eventually owning his own marketing agency.
But first, Gaskill, Van Oort and the rest of the Mustangs have plans for the remainder of this season with Mount Mercy solidly planted as the No. 5 seed with the Heart of America Conference playoffs beginning Saturday and continuing into next week.
Although Van Oort felt like last year's team was the most likely to qualify for the team's first national tournament, COVID-19 canceled those hopes. This year's team has to get past No. 1-ranked Grand View.
'If we beat Grand View, they will have to let us in,' Van Oort said.
The national tournament is held in Des Moines next month.
Comments: justin.webster@thegazette.com