Home / Opinion / Guest Columnists
What it's like to be an Asian American in Iowa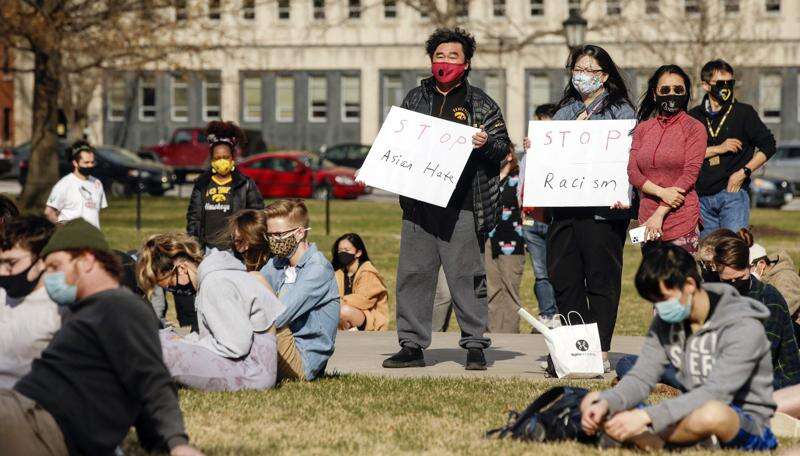 My earliest memory was walking into preschool and instantly understanding I looked different. It wasn't long before I was treated different. Racism has existed my entire life, but I quietly tolerated it until recently.
I was raised to love and appreciate everyone equally. I was adopted by two loving white parents who raised five Asian children: Korean, Cambodian and (myself) Vietnamese — while also fostering others.
Racism comes in many forms and happens everywhere. Most common for me are microaggressions. Things like asking, 'where you are really from,' as if I didn't belong here. It's assumed I can speak another language, by default I'm Chinese, I know all the Asian restaurants and foods, I'm smart at science and math because of my genes, not because I worked hard. I've been gawked at and called racial slurs; I've been overlooked and generalized as white. People question if I am a person of color — I am a minority, and I see the world through a different lens.
Growing up I learned to be silent, to ignore it, to take it, to not talk about it. I learned to always be prepared to respond to a comment, an expression or act toward me — just because of the way I look.
The pandemic itself is exhausting — being Asian adds another layer. It took six months before I appeared in public because I was scared of potential racism with COVID-19. Today, I'm back to where we started the pandemic — not going out alone.
The insensitivities, stereotyping, ignorance, xenophobia and hate have always existed, but over the last year it feels like it's only getting worse.
In 2020, I was fortunate to discover my birth family. One factor in not visiting them yet includes Asian hate crimes happening in their area. I fear for my birth family and their safety. I don't believe they moved to this country to endure hate and isolation.
I'm blessed with two wonderful children, and a husband who is white. Our children are half Asian, and we recognize society will always view them as a minority. We have to raise them to understand what it means to be Asian American, including how to prepare for situations, conversations, and feelings — all because of the way we look.
This past year, I broke my silence and found courage to speak up on racism — I asked certain people I thought I could trust to do better in racially insensitive situations. I provided little and big ideas to start change … hoping for anything. Even in what I thought was a safe place, I was downplayed, overlooked and not prioritized. My voice was not important to them. Nothing happened, and I was forgotten.
Actions, or lack thereof, spoke louder than words. The only control I had was to no longer surround myself with such ignorance. I felt that situation validated my fear as an Asian American: I didn't matter. Speaking up was scary, but I asked myself, 'What would I tell my kids to do? How do I help make the world a better place for them?'
My children deserve better, minorities deserve better, Asian Americans deserve better. I will continue speaking up for my children, family and communities all around.
The recent killings in Atlanta spas that include eight innocent souls are absolutely devastating, including six Asian American women. It adds fear in me that how I look carries a deadly risk. But I'm proud to see other Asian Americans speak up, and I hope to give weight to our voice collectively. Reach out to your Asian American community, ask how they are doing and how you can be supportive. I'm optimistic there is far more love in this world than hate, and my children will get to live in a better time because of all the noble changes we make for them now.
Brittney Stepanek lives in Cedar Rapids.