Home / Opinion / Guest Columnists
A rural champion is back at the helm of USDA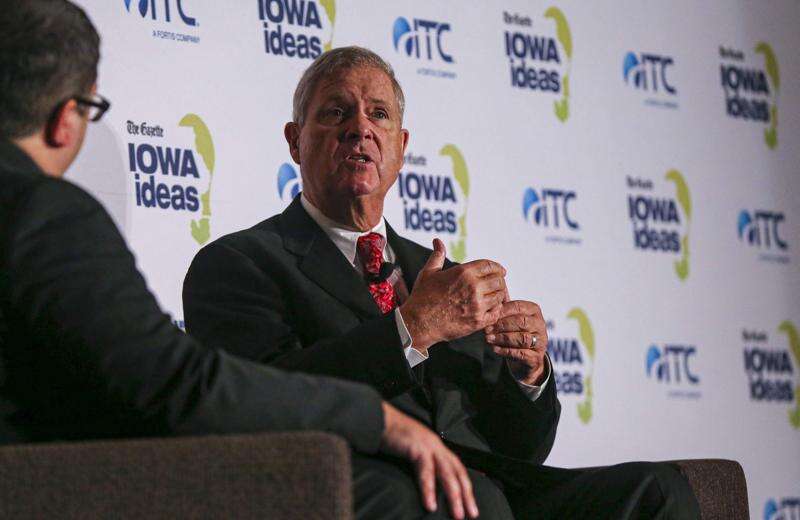 In the 2020 election, and as Iowa faced unpredictable flooding and the derecho, we saw climate change emerge as a key issue for many voters and across the state and country. Voters, especially younger voters, demanded candidates put together comprehensive sets of policies and plans to address climate. Iowa provided a road map for how we could thoughtfully approach climate policy that measurably moves the needle and includes rural communities in the fight.
President Joe Biden wove in key take-aways from his time in Iowa in his rural and climate plans, but to implement those plans into concrete action, he knew leaders in Washington, D.C. needed to prioritize policies and most importantly personnel that would be able to bring rural America into the fold of solving one of our most pressing challenges — addressing climate change.
That's why Growth Energy, Iowa Farmers Union, our farmers and member companies in the biofuels industry were pleased to see Biden nominate, and a bipartisan group of Senators — including Iowa's own Senators Ernst and Grassley — swiftly vote to confirm rural economic champion and former Iowa Gov. Tom Vilsack to lead the U.S. Department of Agriculture once again.
This is a critical cabinet position, because alongside overcoming the COVID-19 pandemic and getting our economy back on track, Biden has prioritized climate change for his administration, and Secretary Vilsack is uniquely qualified to chart a path that engages rural America in finding meaningful ways to address climate change while ensuring that the economic viability of rural communities is not decimated.
While reports circulate around Iowa's first-in-the-nation status, it is more important than ever that those making decisions in Washington have the perspective of and connections to the heartland to bring all of our communities together to confront one the biggest issues of our time. This past caucus cycle, it was in Iowa that candidates drafted their rural plans and came to understand that our farmers and rural communities are key to attaining meaningful progress on climate.
Vilsack proved as governor, as well as in his eight years in the Obama administration leading USDA, that with the right mix of people and policies, rural America can play a leading role in climate change. But Vilsack is also keenly aware that biofuels must be part of the Biden administration's strategy to meet its climate change goals, and making sure that low-cost, available tools like these are also used to bridge the rural and urban divide on climate change.
The science and economics on biofuels and climate are clear. When it comes to climate change, we know that biofuels will play a big role in helping the U.S. drive down greenhouse gas emissions both in the short term and long term.
In fact, a new report from the Rhodium Group, a leading independent climate analysis firm, found that biofuels are an essential element of our path to a net-zero future by 2050. Ethanol reduces life cycle emissions from motor fuel by an average of 46 percent, as demonstrated most recently in groundbreaking research. Continuous innovation has fueled this environmental progress, allowing biofuel producers and farmers to ramp up production year after year, without expanding our environmental footprint. Biofuels can help us reduce emissions today, and the innovations being driven by our industry will continue to reduce the carbon intensity of fuels created by America's farmers.
Biden's climate agenda rightly relies on multiple tools to fight climate change, including ethanol and advanced biofuels, among other clean transportation solutions. Climate champions recognize that biofuels provide the single best low-carbon alternative available today, compatible with our existing auto fleet and affordable for communities around the world. Vilsack has a vital role in advising Biden on how to make the people, industry and extraordinary economic drivers of rural America into important partners in the fight against climate change.
As the Biden administration and Congress debate different pathways to 'Build Back Better,' strong biofuels policy must be a key part of any strategy to get our economy moving again. So, we at Growth Energy, Iowa Farmers Union and across rural America have a simple message for the Biden administration, Secretary Vilsack and all climate champions: we're ready to get to work.
Emily Skor is CEO of Growth Energy: GrowthEnergy.org; Aaron Lehman is president of the Iowa Farmers Union: IowaFarmersUnion.org