Home / Podcasts / Gazette Daily News
Gazette Daily News Podcast, March 24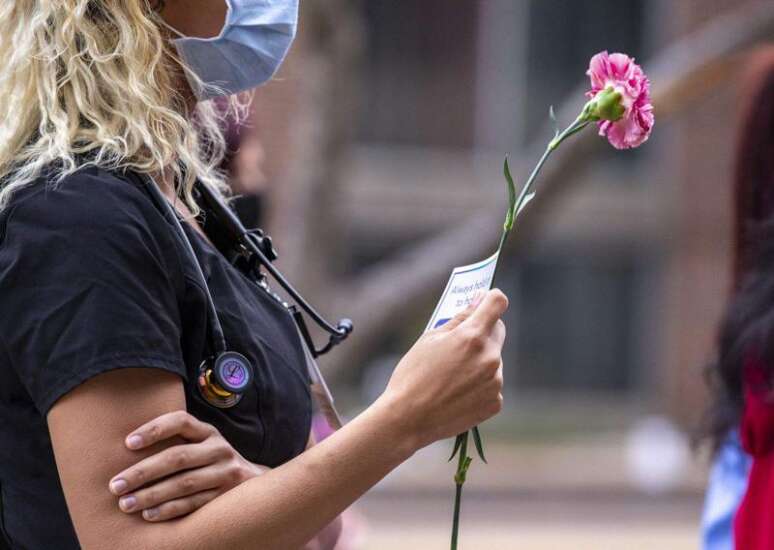 Be sure to subscribe to The Gazette Daily news podcast, or just tell your Amazon Alexa enabled device to 'enable The Gazette Daily News skill" so you can get your daily briefing by simply saying 'Alexa, what's the news?
You can also find us on iTunes.
This is Stephen Schmidt from the Gazette digital news desk and I'm here with your update for Wednesday, March 24th.
It looks like the rain will continue on Wednesday, at least for awhile.
According to the National Weather Service showers will be likely in the Cedar Rapids area before 10 a.m. Wednesday. When it is not raining it should be mostly cloudy, with a high near 54 degrees. It should remain a bit breezy, with wind speeds of 15 mph occasionally gusting as high as 25 mph.
A nurse and a correctional officer at the Anamosa State Penitentiary were killed Tuesday morning in what is believed to be the first fatal assault by an inmate in decades.
Iowa Department of Corrections said in a statement it was investigating the assault, which took place about 10:15 a.m. in the prison infirmary. The department did not say whether the inmate used any sort of weapon in the attack. 
The two victims have not been identified, pending family notifications and the investigation, the department said. Prison staff attempted giving first aid to them until paramedics arrived.
The inmate — who also was not named — was restrained after the attack by security staff.
Cedar Rapids Police are treating a racial slur discovered early Tuesday spray painted on a vacant rental house as a hate crime. The house has been the source of neighborhood complaints over the last year.
Cedar Rapids police received a call about 7:30 a.m. that a racial epithet was painted in yellow across the front of 2307 Bever Ave. SE.
'I'm disgusted and furious that someone would do this,' Chief Wayne Jerman told The Gazette. 'We are handling this as a hate crime. We are talking to all the neighbors and exploring every lead at this point. We have investigators working the case.'
The department said it would work with the FBI and U.S. Attorney's Office as it investigates to see whether federal hate crime statutes apply. The Gazette published an article Sunday about violence, including drive-by shootings and a pipe bomb stemming from this house, which the city last year had declared a nuisance property. 
One of the closest elections in the country last year remains a contested one. Democrat Rita Hart's campaign has renewed its call for all lawful ballots to be counted as Republicans argue that contesting the election is a power grab. Attorneys for Hart and U.S. Rep. Mariannette Miller-Meeks, R-Iowa, submitted initial legal briefs to a U.S. House panel on Monday.
Miller-Meeks' attorney, Alan Ostergren, broadly denied Hart's claims and said the burden was on Hart to prove that a state-certified election should be overturned. Hart argues that 22 ballots were legally cast in the district but not counted, due to errors by election workers. Had the 22 ballots been tallied, Hart argues, she would have won by nine votes.
As one might expect, outside political influences are shaping the debate over this electoral result. Moderate Democrats, fearing an election challenge soon, balked at bringing the issue before the full House, while Republicans have criticized the Hart campaign for not challenging the results in Iowa courts first. The Hart campaign says Iowa courts would not have acted quickly enough before the election was certified.
This briefing is sponsored in part by Corridor Careers. Are you looking for a job? CorridorCareers.com is a resource to local job seekers where they can get job tips, sign up for local job alerts, build a resume and more. Check it out at CorridorCareers.com.