Monsters afoot in Iowa Children's Museum public art project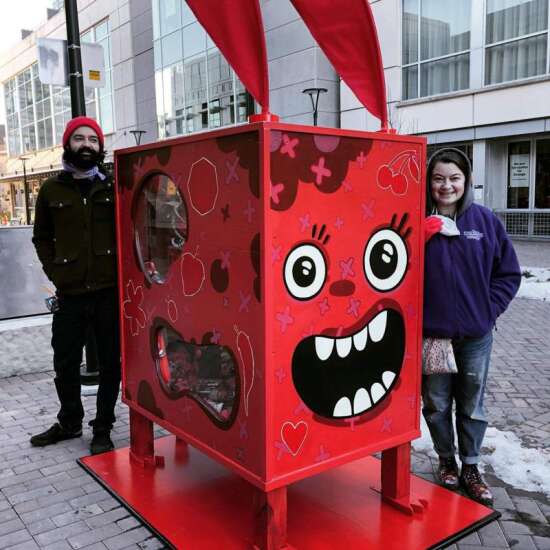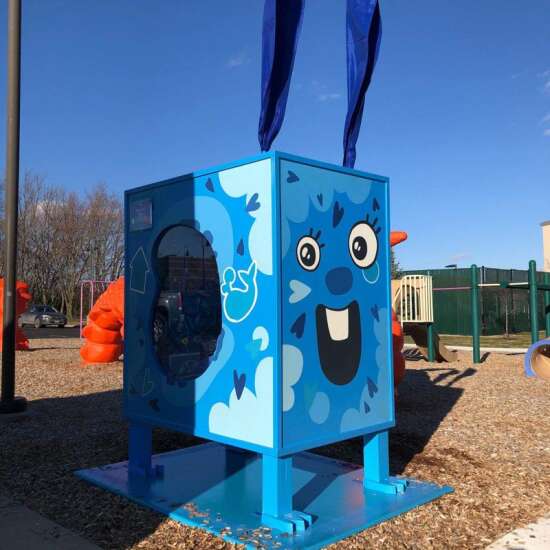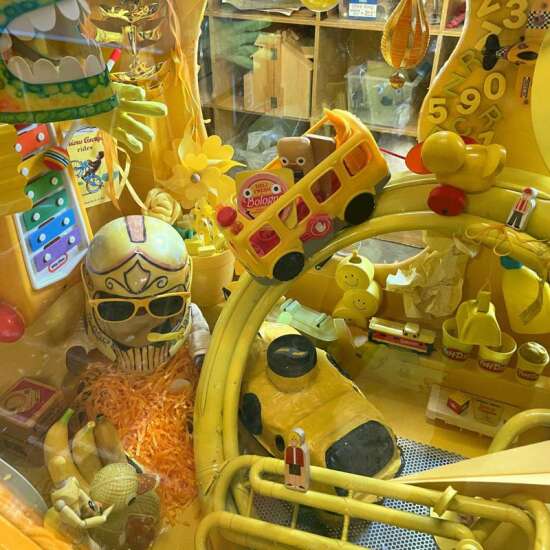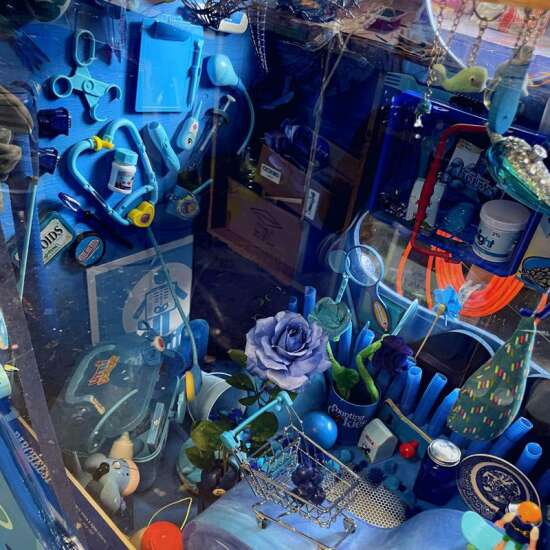 Monsters are mysterious creatures, known for eating the strangest things.
A famous one with a sweet tooth fills his belly with cookies. Monsters from the Iowa Children's Museum, however, are filling their bellies with toys, reused materials and whatever else they can find in their specific color, so their insides match their outsides.
The first three color-coded monsters are on display in Johnson County, with three more planned to eventually fan out around the area, including Cedar Rapids.
They're part of the children's museum's 'Eye See 'Em! Eye Spy Monster Experience,' beckoning visitors of all ages to peer inside for a pandemic-friendly, family-friendly visual scavenger hunt.
Red Robin, full of red objects, stands on the Iowa City Pedestrian Mall downtown. Mel O Yellow is stationed outside the Iowa Children's Museum inside Coralville's Coral Ridge Mall. Blue Lou offers another way to play, from its perch on the playground near the North Liberty Library. Green, orange and purple pieces eaters are next in line to dot the area landscape.
The exhibition's name also is a play on the museum's abbreviation. That's right, say ICM and Eye See 'Em out loud, and you'll get the picture.
But this public art exhibition has teeth. It's designed to educate as well as entertain.
The concept is simple, according to Jeff Capps, the museum's executive director.
'These friendly monsters have gobbled up all these found objects and artifacts from the museum,' he said, noting that various shapes of Plexiglas cutouts allow viewers to 'see all the different objects that are mounted artistically, creatively in the box.'
'It's one of those things where you look from a different angle, at a different time, and you're going to see something different every single time,' he said. 'There are hundreds of items in these boxes. ...
'The other aspect for kids is the opportunity not only to see something that we think is a neat work of art, but also to identify different objects or games that they haven't seen.'
Activity guides can be downloaded at theicm.org/eyespy/ and the monsters also have QR codes to scan that will lead to the online activity page and a mini scavenger hunt to look for specific items in each monster's belly.
The hunts are designed to 'inspire kids to look for those items and have a little bit of fun out in the field,' Capps said. 'The goal is to engage and inspire and create a little bit of awe and wonder when they see this very unique thing, and then you investigate it a little bit closer, and you realize, 'Wow, that's really cool.''
He estimates each box costs upward of $4,000 or $5,000 in time and materials, using funds originally allocated for a performance series and an artist-in-residence program that came to a halt when the pandemic closed the museum's doors last March. Both had been funded in part by the Community Foundation of Johnson County.
Capps said that organization was 'excited' to pivot those dollars toward the eye-spy boxes, with additional support from a public art matching grant from the city of Iowa City. Museum staff members are in the process of finding sponsors for the next set of boxes.
The plan is to rotate the boxes to other sites around the area and eventually bring them all back to the museum or the mall so people can see them all in one spot.
'Having had a couple of them in the shop at once, we recognize that they're really cool to see out in the community as single objects, but it's really fun to see two or three all together,' Capps said. 'So the thought of five or six of them being in a store in the mall — or here in the museum or right outside the museum — we think that would be supercool.'
Another possibility is to challenge area children to create their own mini version of a viewing box, and have a kids' art show at the museum, Capps said.
'There's a tremendous number of opportunities going forward to extend this, so it's not a one-and-done thing, but that we can really extend the value of these a little bit.'
Realizing that curious little ones may touch the viewing windows, Capps encourages adults to be vigilant about washing and sanitizing hands before and after peering into the boxes. It's just not possible to have staff wipe down the windows after each viewing, he noted.
Like the rest of his colleagues, Capps is having fun with the project, and said he loved being part of the installation process.
'It's one of those things where — when you create something that's cool and a little bit out there, and you see people's reactions — it's always fun to then be able to share with them what we're up to,' he said.
'It's been a great way to take the aesthetic of our museum out into the community, especially at this time where (the museum's) capacity is limited and we know people are not out and about as much. They're starting to get out a little bit more, so doing something outside felt like a good step for us to take. ... It's something that's still relevant. ...
'Now that the weather's improving, having these things out is fantastic, so it's worked out really well.'
' What: Iowa Children's Museum: 'Eye See 'Em! Eye Spy Monster Experience'
' Where: Mel O Yellow at Coral Ridge Mall; Red Robin on the Iowa City Pedestrian Mall; Blue Lou by the North Liberty Library
' When: Now on display; monsters eventually will rotate among sites and more monsters are in the works
' Cost: Free
' Extras: Download 'Eye Spy' activities at theicm.org/eyespy/ or scan QR codes at the sites
Comments: (319) 368-8508; diana.nollen@thegazette.com